DC Personnel - Your Trusted Recruitment Partner
DC Personnel is based in Leicester and provides temporary and permanent staff for local businesses within the industrial, engineering and commercial sectors.
Whether you are looking for work, or looking for workers DC Personnel can help you today.
Our aim is to be a trusted recruitment partner, with a reputation for tailoring our service to offer the best possible service at all times.
At DC Personnel we are always looking to enhance our offer to candidates and clients.
We believe that by continuing to evolve as we grow, we can offer a service which is second to none.
DC Personnel's Core values are Positive, Excellence, Honest, Passionate and Humble.
We create a culture which challenges, seeks for innovative solutions and promotes a healthy state of mind.
We have the highest standards and strive to be the best we can be. We execute on the details and take pride in our work.
Given our responsibility to each other, our candidates and clients we operate with trust. We do the right thing there is no alternative.
We listen, we care, we act with courage, we do what we say we'll do.
We celebrate individual accomplishments yet we understand no single person is bigger than the team.
The team at DC Personnel are all experienced recruiters who thrive on helping our candidates and clients achieve their goals.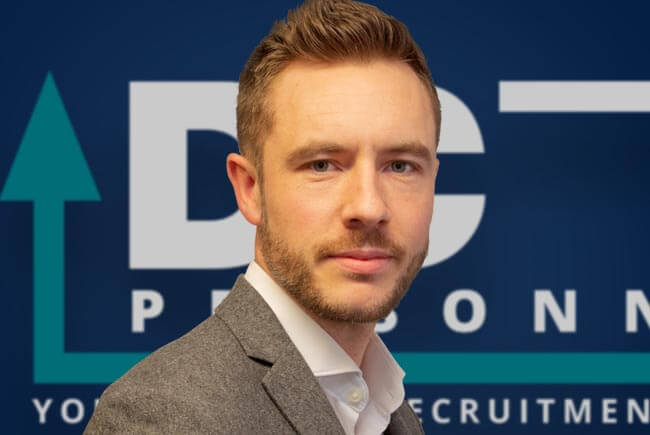 Daniel Connor is a well-regarded recruiter with over 13 years' experience, predominantly within the industrial sector. Daniel has supported local businesses in the Leicestershire marketplace with many recruitment projects and has previously managed many successful teams over a number of years. His drive and ambition grew throughout his career, leading him to launch his own recruitment business in 2020.
Outside of work Daniel has a love for music and is currently learning the acoustic guitar in hope of teaching his children to play very soon. He loves a challenge and has endured many physical events including half marathons, Wolf Runs and swimathons to raise money for numerous charities. When he gets the chance Dan likes to read biographies and is a fan of learning from other peoples journeys.
Sean Bruce brings a combination of sales, customer service, and management experience to DC Personnel. He not only has the ability to identify and understand the challenges businesses face within recruiting but he is also confident creating consultative solutions to clients' problems. Sean is driven, motivated and resilient by nature and thrives on a challenge and is a firm believer of you get out what you put in.
Outside of work Sean ran the Virgin Money London Marathon in 2017 to raise money for Epilepsy Action. He has also won four Midlands Boxing Championships and he loves to travel; he has visited 18 different countries across five continents with many more on his to-visit list.